Hershey Veterinary Hospital has a full-time groomer on staff. Grooming services for all breeds of dogs are available Monday through Friday. We ask that all scheduled pets are dropped off between 7:00 AM and 8:00 AM. All dogs are required to be up to date on their vaccinations. The owners will be called when the pet is ready for pick-up. If needed, the dogs may stay at Hershey Veterinary Hospital until the end of the day.
Grooming is important because it involves both the hygienic care and cleaning of a pet. Grooming is a process which includes the following steps:
Brushing (removing mats from the pet's hair)
Bathing (cleansing the hair and the skin)
Drying (drying the hair and the skin)
Clipping and Trimming (styling the hair)
Having your pet groomed by a professional allows your pet to be checked by someone who can identify potential problems (ticks, flea bites, skin infections, abrasions, cuts, etc.) and bring them to your attention for resolution.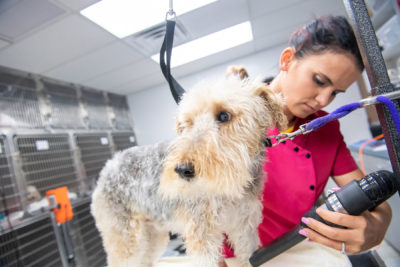 Grooming also includes the following:
Cleaning ears
Trimming nails
Expressing anal glands
Ear cleaning is very important to your pet's health. All dogs should have their ears cleaned from time to time; some dogs need more frequent ear cleaning. Clean ears contribute to a healthy body and skin.
Nail trimming is important because it keeps the dog's nails at the correct length and angle. Just like people, too short or too long nails can be painful.
Dogs need to eat the right amount of fiber in order for anal glands to function properly (excrete fluids). Because the average dog diet lacks good fiber, their anal glands have to be expressed manually to get rid of the fluid. This is part of the grooming process at Hershey Veterinary Hospital.
The cost of grooming is dependent on the size of the dog and the condition of the dog's hair. We recommend booking your grooming appointments in advance as the slots fill up quickly. You can book grooming appointments for an entire year at a time. Hershey Veterinary Hospital will also brush your pet's teeth during grooming for a nominal fee. We would be happy to teach you how to do it as well.