Our dedicated team is committed to treating all pets with understanding and compassion. We focus on educating our clients on how to keep their pets happy and healthy throughout all life stages. We provide counsel on nutrition, behavior, and preventative medicine.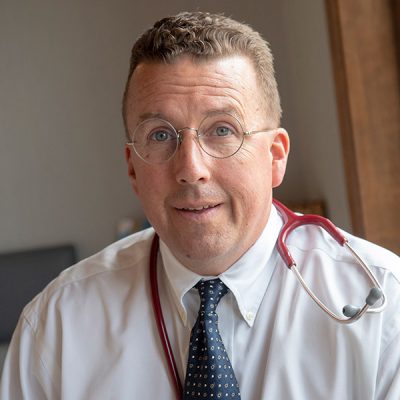 Dr. Kevin Schengrund
Owner
Dr. Kevin Schengrund is the owner of Hershey Veterinary Hospital. Dr. Schengrund is a graduate of Penn State University and received his DVM degree from Purdue University in 1988. After graduation Dr. Schengrund worked in Las Vegas before returning to his hometown of Hershey and opening Hershey Veterinary Hospital in 1990. Dr. Schengrund's veterinary interests include ophthalmology, surgery, and internal medicine… Read more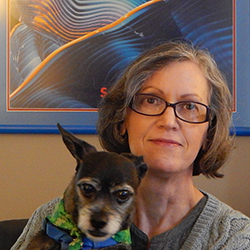 Joanne
Office Manager
Joanne became our office manager in 2018 after being a client for over 25 years. Joanne is a CPA who previously ran her family's business prior to its sale. Joanne shares her home with her dog, Asti, and has a large pond with 60 goldfish. Joanne loves to try different wines and enjoys reading and gardening.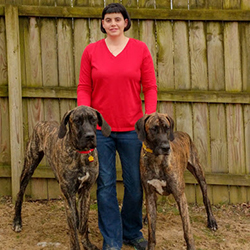 Janell
Technician
Janell has been a team member since the year 2000. Janell received her degree in veterinary medical technology from Wilson College. Janell shares her home with her husband, 2 sons, 2 Great Danes, and 3 cats. Janell enjoys spending time with the family, riding bikes, and hiking.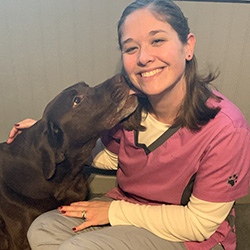 Beth
Receptionist
Beth has been one of our receptionists since 2007 after being referred by a friend. Beth shares her home with her husband, daughter, and 2 chocolate labs. Beth enjoys being outside, as well as traveling and cooking.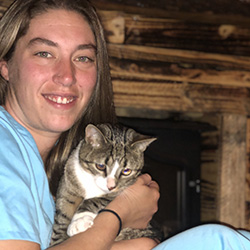 Kim
Receptionist
Kim started her veterinary career in equine medicine before joining our team in 2010. Kim currently works as one of our receptionists. Kim enjoys spending time with her husband and 2 sons; as well as horseback riding.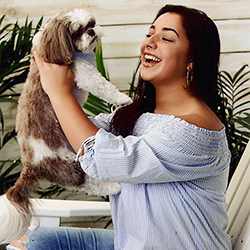 Delaney
Technician Assistant
Delaney joined the Hershey Vet team in 2014 after many years coming as a client. Delaney is a current student at Penn State and hopes to attend veterinary school upon graduation. Delaney also enjoys spending time with her Shih Tzu named Caspian, hiking, baking, and photography.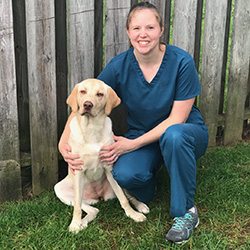 Kelsey
Technician Assistant / Cleaning Manager
Kelsey has always loved animals and after attending Lancaster County CTC, she joined the Hershey Vet team in 2014. Kelsey works as one of our technician assistants and also as our cleaning manager. Kelsey lives with her husband, son, and her yellow lab, Carly. When not at work Kelsey enjoys: camping, listening to music, being outdoors, and spending time with the family.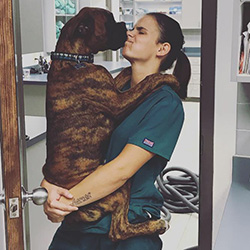 Catia
Groomer
Catia rejoined our team in 2017 after spending a summer working with us as a teenager. Catia is originally from Portugal and speaks 2 languages. Catia and her 2 sons share their home with 3 dogs and 1 cat. Catia enjoys listening to to all types of music as well.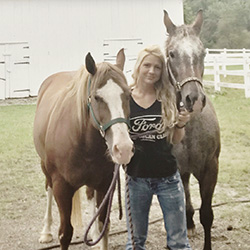 April
Technician Assistant
April works as one of our technician assistants and joined the team back in 2013. April has always loved animals; big and small. She especially loves horses. April enjoys riding her 2 horses, Cookie and Roxy, as well as spending time with her rescue cat, Piper. April also loves the outdoors, bike riding, and working out.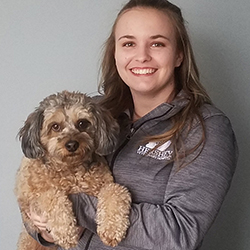 Kali
Receptionist
Kali joined the team in 2017 and is working as one of our receptionists. Kali grew up on a farm and recently purchased a small farm with her husband. Kali has 2 dogs; Hank and Kasey. In addition, she is a Washington Capitals hockey fan, she enjoys: reading, snowmobiling, and riding four-wheelers.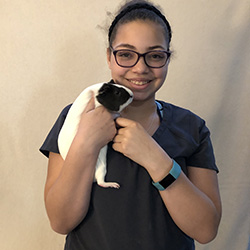 Whitney
Kennel Assistant
Whitney joined our team in 2018 and currently works as a kennel assistant. Whitney currently attends Dauphin County Technical School and hopes to become a veterinarian in the future. Whitney enjoys arts and crafts as well as caring for her guinea pig, 2 dogs, and 2 cats.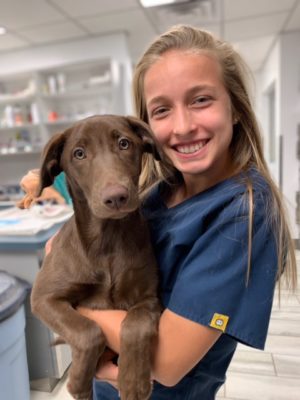 Maddy
Kennel Assistant
Maddy joined the team in 2019 after volunteering for 2 years.  She is a student at Hershey High School.  She lives with her mom, dad, brother, and sister.  Maddy enjoys playing soccer and the violin, and running cross country.